Sponsored by the Ministry of Economy, Trade and Industry
In order to continue to develop the growth of the Japanese content industry and advanced content technologies, we aim to stimulate international trade and create new markets for Japanese content by providing opportunities for business matching.
Talk Session on International Co-Productions: From Planning to Completion
Having worked on two international feature film co-productions, Along the Sea and Passage of Life, the producer Kazutaka Watanabe and director Akio Fujimoto, who completed the films while in their 30s, hosted a talk session for emerging producers aiming to create international co-productions, on planning to completion of films. The talk session consisted of their experiences in participating in the BCPM (Berlinale Co-Production Market) with their co-producers from Vietnam and the J-LOD subsidy ("J-LOD #2 financial support to create content for overseas markets and training human resources" used to fund these international co-productions).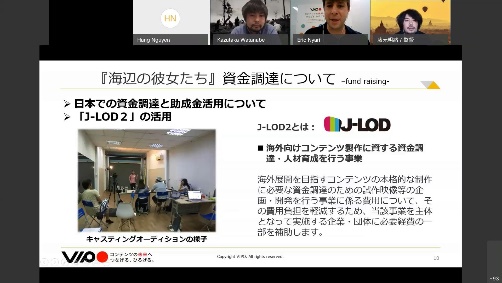 Annecy International Animation Film Festival, the Japan Pavilion at MIFA 2021
The Japan Pavilion was exhibited online at MIFA 2021, an official market of Annecy International Animation Film Festival. The last time we exhibited the METI business matching booth onsite was 2018, and this year we gave seven Japanese animation firms the opportunity to have business meetings to promote their contents to overseas.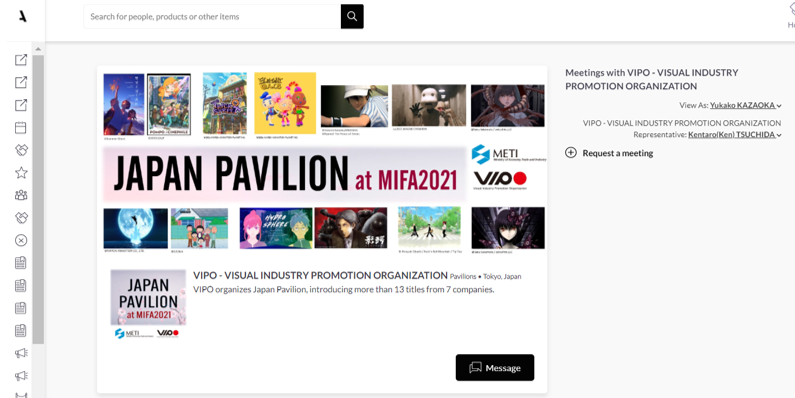 G.H.Y Culture & Media Business Matching for Scriptwriters
There was a business matching event between Japanese scriptwriters who want their original projects to be made into films overseas and G.H.Y Culture & Media, an audiovisual production company based in China and Singapore. Five scriptwriters from Japan participated in this matching event.
Acceleration-JAPAN (A-JAPAN) Business Matching
A-JAPAN was an online business matching event to facilitate the sales of Japanese IPs to be made into television series or remade overseas, with the people in the American film industry, particularly Hollywood. Six Japanese projects were presented at this event.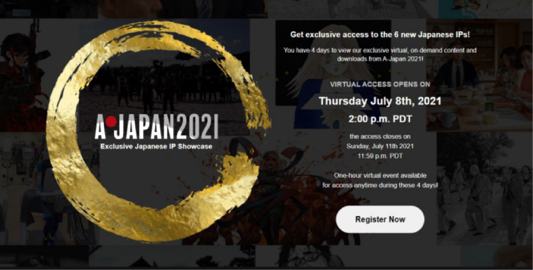 Bucheon International Fantastic Film Festival "NAFF It Project" and "NAFF Fantastic Film School"
Two films, The Water Sprite and Quantum Suicide, were presented at the NAFF It Project. They had 56 meetings, with film industry people invited from all over the world participating online. The Water Sprite won the Mocha Chai Award from the post-production support department. Producer Amy Aoyama participated in the NAFF Fantastic Film School.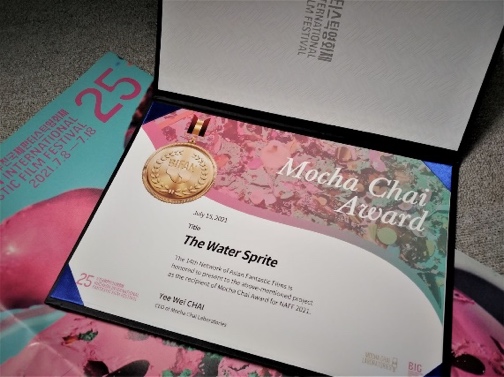 Game Ark IP Business Matching
A business matching session was held between Japanese IP holders and GameArk, a Chinese company known for producing and distributing the smartphone game BLEACH Soul Rising, which is based on the popular anime BLEACH. Three Japanese companies selected (with 12 IPs in total) participated.
ChinaJoy Business Matching
The Japan Pavilion was exhibited at the ChinaJoy (China Digital Entertainment Expo & Conference 2021) Business Day in Shanghai, China. Staff at the venue introduced Japanese animation, video games and other IPs, helped with meetings, and introduced buyers. Although it was not possible to visit the venue from Japan, 14 companies with animation, games, and manga IPs had booths there, with over 1,000 visited the Japan Pavilion.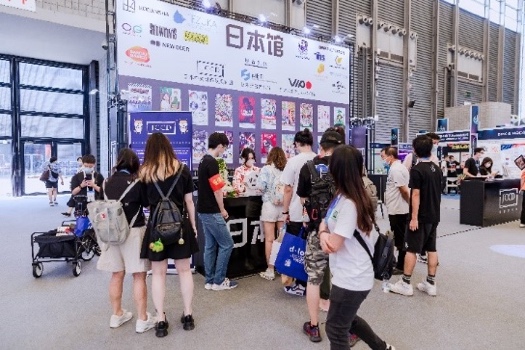 Perfect World Pictures Scriptwriters Business Matching
Aiming to create movies in China out of original projects from Japanese scriptwriters, a business matching event was held between Perfect World Pictures' drama department, a large Chinese movie production company, and Japanese scriptwriters. Four scriptwriters from Japan participated in the event.
Asian Contents & Film market (ACFM) 2021 at the Busan International Film Festival Online
As part of the official market of the Busan International Film Festival, the Asian Contents & Film Market (ACFM) 2021, held along with the Asian Project Market (APM), we presented the new Japanesefilm projects by exhibiting VIPO booth online. Five film projects were pitched by their directors and producers to film distribution companies.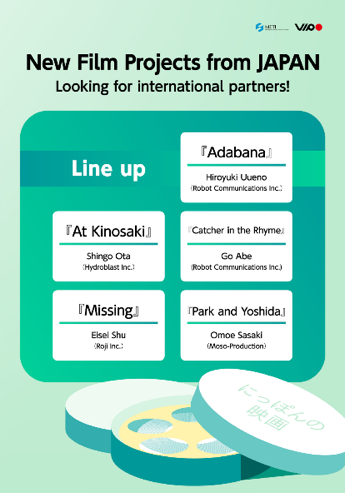 E-IP Market 2021 at the Busan International Film Festival Online
Seven companies participated in the official market of the Busan International Film Festival, E-IP Market 2021, to promote published materials such as books, e-books and scripts, to make them into films and other audiovisual media. Like the previous year, VIPO partnered with ACFM (Asian Contents & Film Market) and requested their support for our Japanese delegation. The seven companies carried out 83 business meetings in four days.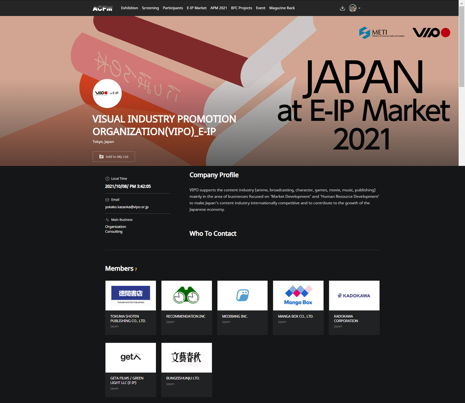 Korean Film Production IP Business Matching
This business matching event was for Japanese creators of novels, comics and other stories, with the aim of selling their stories to be made into films or TV series for the Korean audience. Three prospective Korean audiovisual production companies and 11 publishers and TV stations from Japan participated in the business matching event.
JMAP (Japanese Movie & Animation Pitching) Pitch Training & TIFFCOM Online Pitching
Live action and animation producers and directors aiming for international co-productions participated in an online pitching session at TIFFCOM, after participating in five lectures of pitch training prior to the event. There were four people with live-action films and another four with animation projects. Each pitch was given feedback by overseas professionals.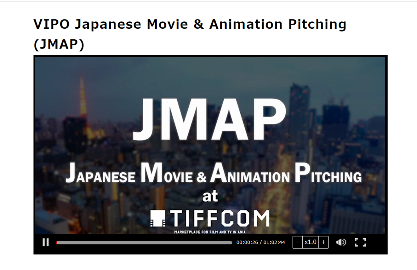 TIMM Collaboration GMS (Guild of Music Supervisors) Seminar vol.2 "Updates in the Music Sync Business of Film/TV/Games and Emerging Media, and How Best to Pitch Your Music"
Four experts in the music sync business shared their experiences in music supervising as part of the second panel from the USA's GMS on the music sync business whose 1st panel was held in 2020.
International Film Festival Rotterdam, Producer Lab Rotterdam Lab 2022
Two producers recommended by VIPO were assigned to "Rotterdam Lab 2022", the producer training program held in one of the most noteworthy film festivals in the world, "International Film Festival Rotterdam (IFFR) 2022".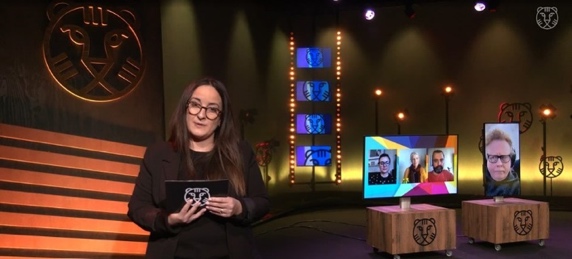 The Berlin International Film Festival and Market "Berlinale Co-Production Market Visitors Programme"
Five producers and directors from Japan participated in the Visitors Programme, a trial program of the Berlinale Co-Production Market, which is a platform where international producers, sales agents, and distributors gather for project pitch and networking with other potential international partners. It is a place where people can directly experience and learn about current market participation, negotiations, procuring funds and the latest trends in international co-productions.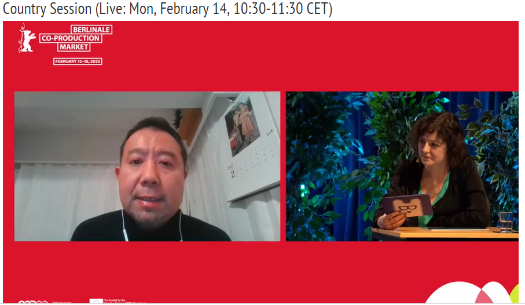 Participation Support at Books at Berlinale
To encourage more participation of Japanese publishers in Books at Berlinale, a Book to Film market of the Berlin International Film Festival, we held three events. 1. Opportunity where they can listen to the sales pitches from other country's publishers and publishing agents. 2. One-on-one online meetings with movie production companies overseas. 3. Orientation by Books at Berlinale's representative, Henning Adam for Japanese publishers.
Asian Animation Summit (AAS)
Two Japanese companies participated in the 10th Asian Animation Summit (AAS), a business pitch event taking place in the Asia-Pacific region that is hosted by the organizer of Kidscreen Summit, North America's largest kids' entertainment market. The participants underwent a total of six online consulting sessions to prepare for pitching to four VIP buyers.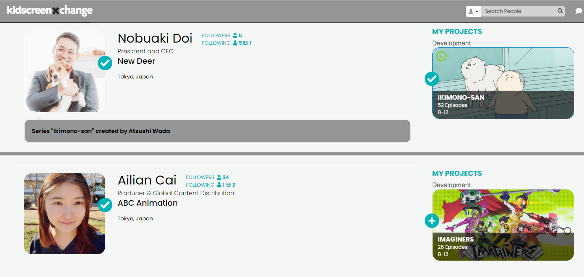 Japan Pavilion at Kidscreen Summit Virtual 2022
The Japan Pavilion was exhibited at Kidscreen Summit Virtual, North America's largest kids' entertainment market. This year was our fourth time participating in the market, and the pavilion provided a place for business meetings to promote Japanese kids' entertainment contents to markets overseas. Nine Japanese companies had participated.
The 14th Trilateral Cultural Content Industry Forum
This forum is an international conference for the purpose of creating business opportunities between industries of Japan, China and South Korea, as well as the continual exchange of information regarding trends and content industry policies of the 3 countries. The participants were experts in the industry, technical organizations, governmental organizations and governmental organizations that oversee contents from each country, with China hosting this year's forum. The first part was the governmental meetings, while the second part was a networking event among cultural digital corporations from China, Japan and South Korea. The networking event consisted of four parts: online streaming, immersion experiences, digital music and the anime industry. Companies participated had exchanged fruitful opinions about their industry.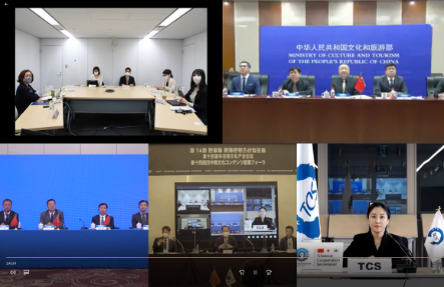 ACBS (Asia Content Business Summit) Bangkok ASEAN Film Festival
Presentations and panel discussions were carried out alongside the Bangkok ASEAN Film Festival, which was held onsite in host country Thailand. The first part was the Country Report (Malaysia, Singapore, Hong Kong/China, Indonesia, South Korea). The second part was a panel discussion themed as "Going Virtual". Each country brought their own speaker for the panel discussion, with one hundred people participating both online and in person.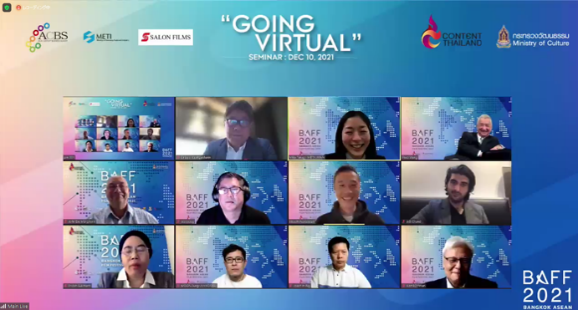 ACBS (Asia Content Business Summit) at Hong Kong Filmart
An ACBS event was held at the Hong Kong Filmart online with the theme, "A New Era of Asia Co-production." The first part was welcome remarks. The second part introduced "Co-Production Policy and Case Introduction," where speakers from Japan, Singapore, Thailand, Malaysia, Indonesia, Saudi Arabia and Hong Kong talked about specific examples of international co-production. Speakers from Japan included the producer of Along the Sea, Kazutaka Watanabe and the deputy secretary general of VIPO, Toshifumi Makita, introduced Japan's subsidy system and other topics to the other participants.
CoFesta (Japan International Contents Festival 2021)
The goal of this project is to efficiently share information overseas by connecting with a great, diverse set of Japanese content-related events both internationally and domestically. This project involves building a network of events related to Japanese contents, exploring open innovation practices that focus on contents, and sharing information within Japan and overseas. The goal is expanding the market for Japanese contents around the world. Due to COVID-19, many of the events have been hosted online as last year. Authorized events: 36 (seven have been cancelled this year)